The days are cooler,  shorter and quickly being replaced by Autumn's crisp air. Winter is just around the corner. It's the time of the year to get back in your jeans and big turtlenecks, while setting  the mood for the upcoming season. Underneath it all, wear the soft, comfortable and luxurious underpinnings that make you smile. Dress warmer and layer yourself in beautiful lingerie. 
 The Danish call this "hyggee",  pronounced hoo-ga and is usually translated into English as "coziness" while enjoying life's simple pleasures, like friends, family and graciousness.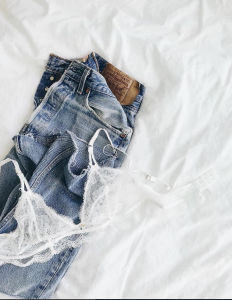 At The Delicate Touch Lingerie & Sleepwear, we love the Fall, season, with its kaleidoscope of colours and the vibrant palettes of morning sunrises and evening sunsets.
There's no better season to savour the weekends and to delight in the sweet luxury of an afternoon nap.  Take a leisurely drive in the country, to see the leaves as they begin to blanket Mother Nature, in preparation her long winter sleep.
Longer evenings mean more time for luxurious soaks in the bath;  for getting cozy in front of the fireplace, with your favourite throw, reading the newest bestseller or falling into a good movie.
Autumn sets the mood for an abundance of